August 20, 2017
Moby Dick translated to emoji language?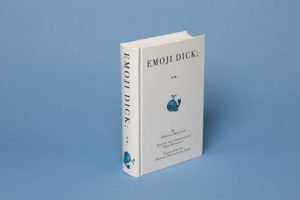 You've probably wondered, if emoji will someday be officially acknowledged as a common language, given we all use it, and if we're really skilled in that field, we can already translate some song lyrics into emoji language. Well, it may take a while until we have this new emoji language acknowledged in the real world, but for now, the emoji translations are one of the things people consider an artistry, and we couldn't agree more, as after all, it does require a time and a skill to transfer words into tiny icons for people to understand.
Ever heard of Moby Dick? Probably, in high school, as this book is more or less a classic literature that you'll have to read some time in your life, and is definitely worth of reading. Moby Dick is a book that is rather simple in language and style, so it's not a surprising fact that people use this when chatting, and unless you happen to be illiterate, and even then you could listen to an audio version, this book is definitely a nice addition to your mind library, and something that you need to read, if you haven't already.
Good news for you, if you haven't had chance to read it back in high school, and you happen to extremely knowledgeable when it comes to emojis, as an artist Benenson, decided to take a different view on this classic, by translating it to an emoji language, and while some of us may be skeptical about it, this Moby Dick version, officially known as Emoji Dick is nowadays on the museum shelves, and that makes it definitely something worthy of trying out. The classic isn't just a bunch of emojis but rather a translation of each sentence into emojis with an original text placed under, so in case that you find it difficult to understand, you can always be assisted by the plain old text, and that does seem like a nice offer, considering it's relatively easy to read, and fun tto experience it in this new form, so if you're looking for a version of a classic in the new, modern light, look no further, as Emoji Dick copy can also be easily acquired on Amazon, and for all we know, the worst thing that'll happen is that you may find yourself texting in emoji language before the rest of them.
So if you happen to be a massive fan of emojis, and an intellectual, or a college student at the same time, then you'll probably find use for this book, and it definitely won't gather dust like all of those other books on your shelves and you'll have something that is at this time, an artistic statement, so when the time comes, the books may be offered in this translation as well. Imagine all those high school students that hate reading and are a fan of emojis, as this will be a solution to their homework problems.