The world will never be the same, not with the emoji collection around. The world of communication, the way we text, the way we express our feelings for one another is defined by these icons we call emojis. Cute, miniature pixelated versions of our emotions placed inside our phones are there to make everything seem better. Each year, the new update brings the new emojis along with it, and everyone is happy about it, as each year the emoji collection proves to be better, richer and more crucial to the way we talk to others.
So what's up with the 2018? What's with the new emojis?
Well, as far as the predictions go, new emojis are coming up each year, and Emojipedia gives us a peak into what future looks like. So, if you're up for a new set of emojis, brace yourself for it all is going to be way better than it was this year, and how is it that we know, well, a cute emoji themed fairy whispered it to us, and now we bring these news to you, in order for us all to share the secret knowledge of the emoji future.
We'll let you on it, as the emojis we're about to present are all about the hair. Well, depends on how you see it, but still, these new emojis you're about to come eye to eye with are relatively old, yet finally realized ideas that we all anticipated for so long we no longer remember why or how. It's just that we need those in our lives, and now when the dream is in motion, all we can do is wait for them to finally arrive to our devices so we can use them until we decide it's boring and then come back to them over and over again.
To begin with, gingers do deserve a proper emoji and the request had been made several times, but each time something else comes up, and the gingers are tired of it. As an example this time, request includes Ed Sheeran as the major ginger star that most of the gingers are proud of. Even so, the mere idea of this being realized is enough for now, and we all do have to wait for Unicode meeting that is to take place in January to see if the request is to be accepted or denied. Whether you like it or not, ginger emoji is what you need, or will need someday in the future, and we' would rather see you not using it at all than for it not to exist. As much as the blonde hair is basic and existing, ginger hair too deserves the place on the shelf of the emoji collection. We all know a ginger that could use a pinch of hope from these news, so if it's true then soon they'll think about it no more, as ginger hair emoji is what's coming up in 2018.
What's with people that have no hair at all? Bald head emoji request had been made before, but with the bunch of new emojis coming up, this one too now has a hope of becoming the real thing. It's definitely needed, especially when it comes to the self-esteem of people that happen to lose hair due to cancer or any other sickness. Apart from that, bald head emoji is something that will promote people that feel as if they don't fit into the society or people who prefer to shave their head whether for religious reasons or simply to state their opinion. It's something we all need to have in our emoji collection, and while most of us will not use it out of the respect, we do support the idea of it becoming the reality, as that's the sort of a dream we all should support. Fingers crossed for the Unicode meeting with the hope these guys will finally understand what it means to struggle with such issue or what it means to wear a wig day after day due to the hair loss. As for the people who believe this to be a bad idea, we hope they get a life, as we simply don't care if they think this is a bad addition to their emojis collection.
Also, the request for the grey haired emoji has been made, and awaiting approval, as this emoji would definitely be something we'd use whether to show off a new hairstyle or to take a picture with your grandma, it's one of the emojis we could imagine using. Not that we think this emoji too will be overly used, but still, the idea of expending suits us well. One can never get enough of the emojis, right? Why would we? After all, emojis make the world a better place, and even for those who are socially awkward in their nature, emojis help in communicating. Grey haired emoji? Yes, of course, as we can always figure out the way to use one of these in the proper way, wouldn't you agree?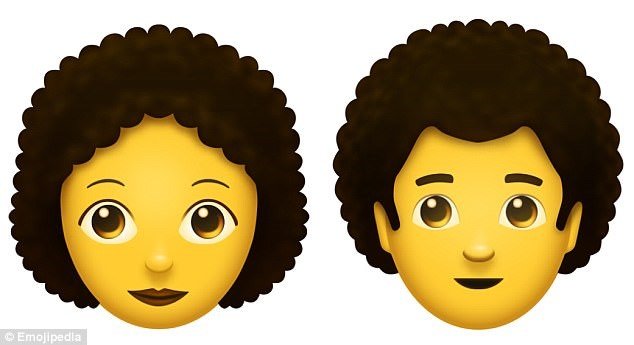 Definitely our favorite, the request for curly hair emoji is what we support with all of our hearts. As an example for this hair, they took Game of Thrones star, Kit Harington as well as Ciara, but we're sure you too can come up with a name almost instantly. Afro hair is something we all wanted to have at the time, but even if we happen nit to have it, we completely agree that an emoji collection could use an addition such as this, as then, it would be way easier to caption a photo with someone who happens to have such hair. Well, just as the rest of them, this request too has to pass through the Unicode meeting, and we may or may not see it come to life in 2018 so chill and wait. Who knows, they just might decide to go along with the rest of us.